Reinventing some favorite classic recipes. The peak of this week at the table is this Glazed Salmon everybody in my family just loves… This marinated and grilled fish is a World food and a taste to remember. Enjoy the chill of Autumn days with the warming flavors of the far East…
Ingredients for 4 People:
4 Salmon Steaks
100 ml Teriyaki sauce
1 Tbsp vegetable bouillon for 1 cup stock
4 potatoes or 4 servings of rice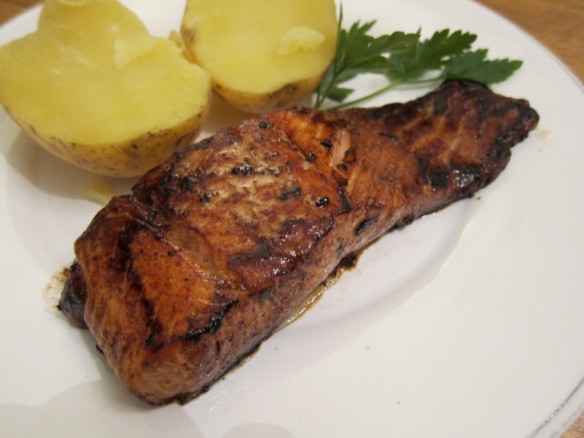 Brush the salmon steaks with teriyaki sauce and let stand in a cool place for 1 hour.
Meanwhile, peel the potatoes and heat water with the bouillon powder to cook your potatoes or rice depending on your preference.
Cook the salmon without their skin in a hot pan. Brush the salmon with the teriyaki sauce halfway through the cooking time to enhance the flavor and to get a slightly caramelised color.
When ready, Serve immediately the salmon accompanied with your potatoes or rice, as preferred.