This Cod fillet with White Butter Sauce is an easy recipe, made with products that are found throughout the year and not expensive. You will surely enjoy this flavourful fish !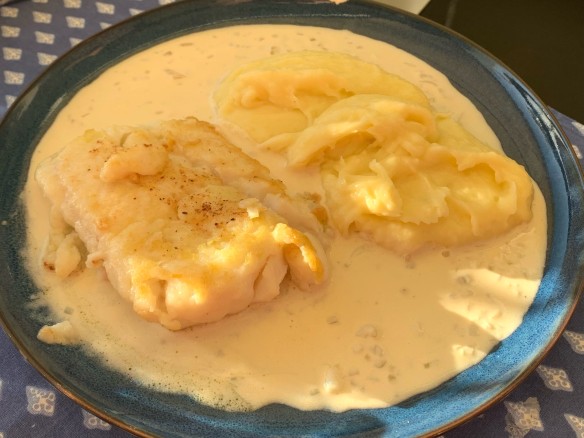 First, here is the list of the different ingredients you will need to prepare these Cod Fillet with White Butter Sauce that serves  4 people
2 shallots
100ml vegetable stock
200ml white wine
4 fillets cod
4 tbsp flour
2 tbsp olive oil
250 ml whipping cream
50 g cold unsalted butter
juice of 1/2 lemon
Salt and pepper from the mill
1 pinch of Espelette pepper
Now, here are the few steps you will have to follow to make these cod fillets with white butter Sauce
Start by peeling and chopping the shallots. Place them in a saucepan with the white wine until the white wine has evaporated. Then add the vegetable broth and continue to simmer until it evaporates.
Pour the fresh cream into the sauce and lower the heat. simmer over very low heat until ready to cook the fish.
To cook the fish, season it with salt, pepper and espelette pepper. Cook the fish in an oiled frying pan until nicely browned. the fish should remain slightly pearly.
Once the fish is cooked, add the butter to your sauce and whisk vigorously until the sauce is thickened.
Serve quickly with homemade mash, rice pilaf or a simple green salad.