This easy dish is wonderfully light and moist, fresh-tasting, thanks to the grape tomatoes and the aromatic parsley leaves.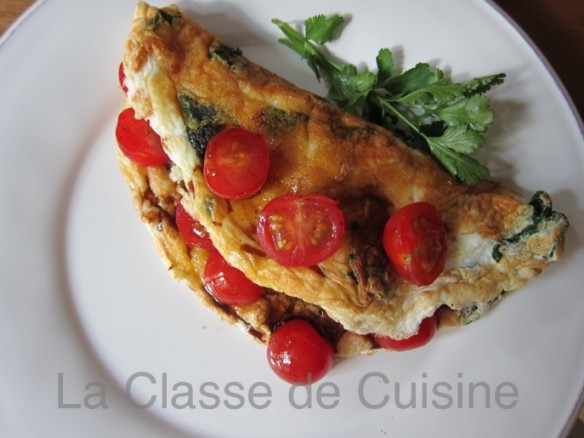 Serves 4                             Preparation & Cooking time 15 minutes
1 cup grape tomatoes, halved
2 Tbsp red wine vinegar
2 Tbsp olive oil
8 large egg whites
1/3 cup roughly chopped parsley leaves
Preheat the grill of your oven to high heat and position the rack on the shelf closest to the grill. Toss the tomatoes with the vinegar and sprinkle with some olive oil. Season with salt and pepper and set aside.
Warm a medium grill safe and nonstick pan. Whisk the egg whites in a large bowl until foamy and doubled in volume. Season and whisk in the parsley. Add the remaining olive oil to the skillet and pour the whites and swirl to cover the pan.
Cook without stirring, until the whites are almost set and light brown on the bottom.
transfer the pan under the grill and cook the omelette about 30 seconds or until it begins to brown. spoon half of the tomato salad onto half of the omelette and fold the omelette over the filling.
Transfer the omelette to a serving platter and add the remaining tomato salad on top and serve.