For these Poached Eggs in Red Wine, take a savoury wine that ages well like a red Burgundy but that is not overpowering and matches this classic dish also called Meurette Eggs….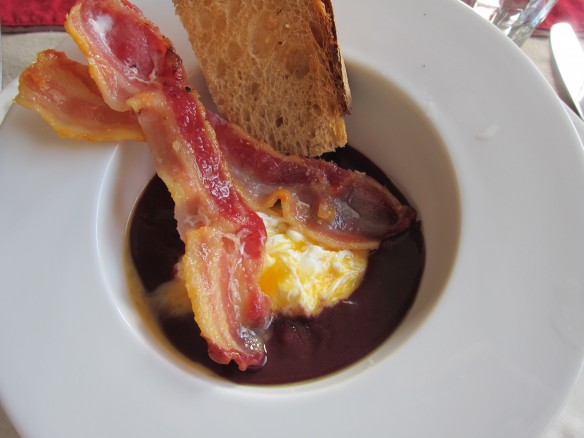 Here is the list of the different ingredients you will need to prepare the Poached Eggs in Red Wine and that serves 6
For the sauce
1 shallot, finely chopped
1 onion, finely chopped
1 small bouquet garni ( 1 bay leaf tied with 3 parsley and 1 thyme sprigs)
600 ml ( 2 1/2 cups) of good red wine
30 g ( 1 oz) butter
1 tablespoon of beurre manié, kneaded butter (see definition link on tips)
Salt and freshly ground pepper
and for the serving
3 slices of toasted bread or swedish bread
75 g (2 1/2 oz) butter
2 Tbsp chopped parsley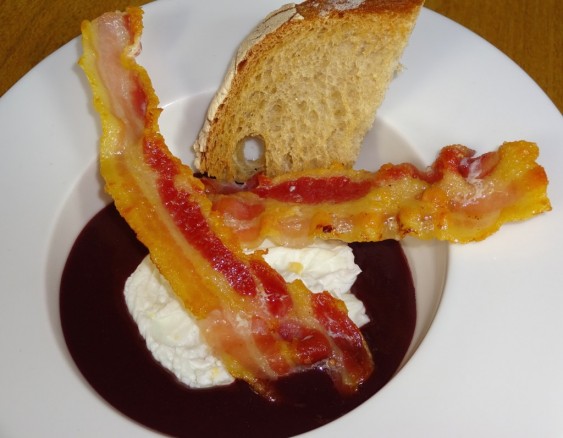 Here are now the few steps you will need to follow to prepare the Poached Eggs in Red Wine
In the hot butter throw the chopped shallots, chopped onion and bouquet garni. Bring them to a simmer and when they are golden, moisten with the red wine, season and simmer over low heat for 25 minutes or until it has reduced to half. Remove the bouquet garni.
Away from heat, beat the beurre manié into the wine mixture with a wire whisk; Boil for 30 seconds.
Poach the eggs one by one in this sauce for 3 1/2 minutes, but they may be done in water in the usual way. (See recipe for poached eggs in the Tips link). when they are all ready, keep them warm in a few tablespoons of hot sauce. Pass the remaining sauce through a sieve, discarding the solids. Season the sauce with salt and pepper. return the heat to low, bind it with your kneaded butter.
Cut each slice of bread into triangles, fry quickly  in a skillet with the remaining butter until golden brown..
Place each poached egg on a plate with two triangles of bread, coated with sauce, sprinkle with chopped parsley and serve very hot, without waiting.
One Option for a more complete dish: Add sautéed and grilled ​​mushrooms and some crispy bacon…