Cheerful foodies in flip-flops like to mix things up because it's important to do something different than what is done during the rest of the year.  We share giggles and good moments devouring olives with our fingers while preparing Cherry Tomatoes Olives & Goat Cheese Clafoutis…
Ingredients for 6 people:
600 g ( 2 cups) cherry tomatoes
2 garlic cloves
100 g (3 1/2 oz) pitted black olives
1 log goat cheese
30 cl (1 1/2 cup) milk
20 cl (3/4 cup) whipping cream
4 eggs
125 g (4 1/2 oz) flour
1 tablespoon sugar
5 tbsp olive oil
Salt and pepper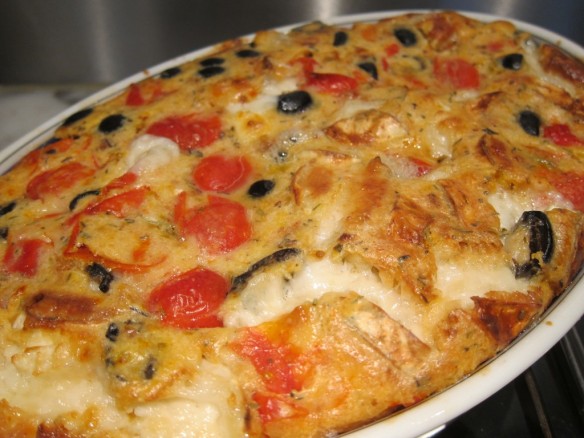 With a needle, prick the cherry tomatoes on all sides. In a skillet, sauté your cherry tomatoes 10 to 15 minutes with 1 tbsp olive oil, stirring often and sprinkling with sugar halfway. Drain and put aside.
Wipe the pan and put your garlic cloves, peeled and crushed.Heat until golden brown with a little olive oil.
Turn the oven to 200 °C (400°F). Cut olives into pieces. Sift flour into a bowl with salt and pepper. Mix and dig a well. Pour in the beaten eggs with 2 tablespoons of olive oil. Gradually stir in the eggs and flour batter then dilute it with milk and cream. Finely, add the tomatoes, garlic, crumbled goat cheese and olive pieces. Divide the mixture into a large ceramic dish or 6 well greased ramekins and bake for 25 to 30 minutes.
Turn upside down the ramekins clafoutis on plates if you want or as is, meaning keeping it  in the dish. Serve with a salad dressed with balsamic vinegar.