These Tulip Cookies with Strawberries are an easy way to welcome friends and family for Tea Time. Hundreds of cultivated strawberry varieties can be found. This dessert is an easy way to please everybody !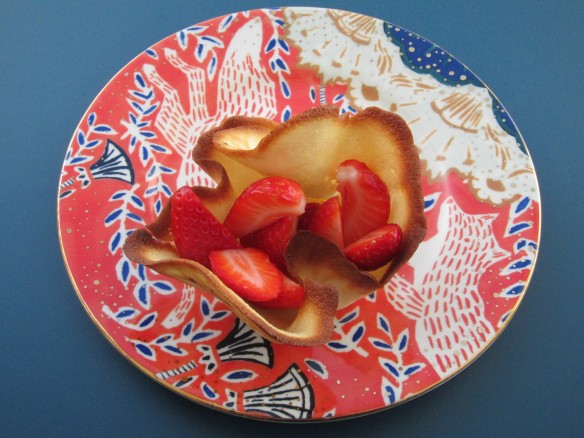 First, here is the list of the different Ingredients you will need to prepare the Tulip Cookies with Strawberries that serves for 8 cups
125 g (1/2 cup) sugar
75 g  (1/3 cup) flour
50 ml ( 2 oz) milk
2 small egg whites
8 gr (1/4 oz) melted butter
Now, here are the different steps you will need to follow to make the Tulip Cookies with Strawberries
To start, preheat your oven to 200 °C (392°F). Pour into a bowl, the flour, the sugar and salt. Stir in the milk and gradually add the egg whites. Finish by adding your melted butter.
After that, prepare your Tulip Cookies two by two. To do this, spread thinly 2 tablespoons of dough onto a baking sheet covered with parchment paper and buttered. Make two circles of about 15 cm (6 inch) diameter.
Bake in a hot oven 7-8 minutes watching the cooking. Edges should be more golden than the center.
Prepare two small bowls. Remove each circle by helping you with a spatula and mold it into the bowls to take shape.

Finally, repeat until all the dough is used. Because the tulip cookies harden quickly when cooling, do not waste time and let them cool.
In conclusion : To keep your tulip Cookies crisp, store them in a dry place, like for example in a metal box.