These small meringues, quick and simple to make, can be served as a dessert or petit four and they are great for parties.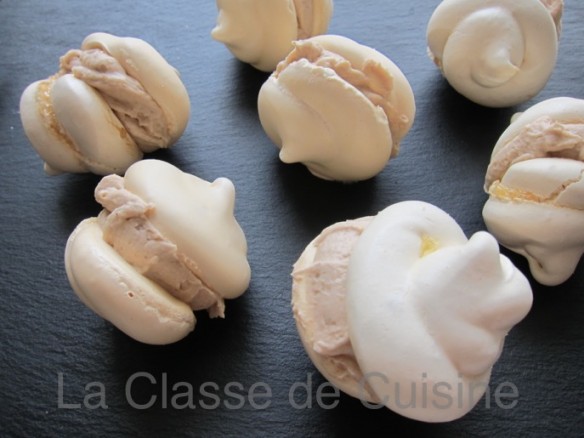 Serves 4                             Preparation & Cooking Time 15 minutes + 1 hour
4 egg whites
4 1/2 oz (125 g) granulated sugar
4 1/2 oz (125g) sifted icing sugar
1/4 pint (150 ml) whipping cream
8 Tbsp (120 g) Chestnut spread "Clement Faugier".
In the bowl of your food processor, beat the egg whites until mid-firm. At this stage, incorporate gradually the caster sugar while beating. Continue to whisk for about ten minutes or until the egg whites are smooth and shiny and form soft pics on the whisk.
Then incorporate the icing sugar with the flexible spatula gradually and mix gently.
Preheat your oven to 225°F (110 °C). Your meringue is ready to use. Prepare two baking trays lined with baking parchment and pipe your small meringues with a pastry bag. Once the plate is garnished with rosettes, bake in an oven for 1 hour for small meringues. (see photo). Increase the cooking time of 5 to 10 minutes if your meringues are larger.
Meanwhile, make the filling by whipping the cream until firm. Add gradually with a soft spatula the chestnut cream until smooth. When the meringues are baked, turn off the oven and let cool for 1 hour in the oven.
Just before serving, use the chestnut cream to sandwich the small meringues together in pairs and serve straightaway.