Ingredients for 4 to 6 people:
50 g ( 5 Tbsp) butter
50 g ( 5 Tbsp) granulated sugar
2 small free range eggs
Zest of 1 lemon ( optional)
200 g (3/4 cup) Greek yogurt
250 g ( 1 cup) flour
10 g (1 Tbsp) baking powder
1 bottle rapeseed or Canola oil
icing sugar for powdering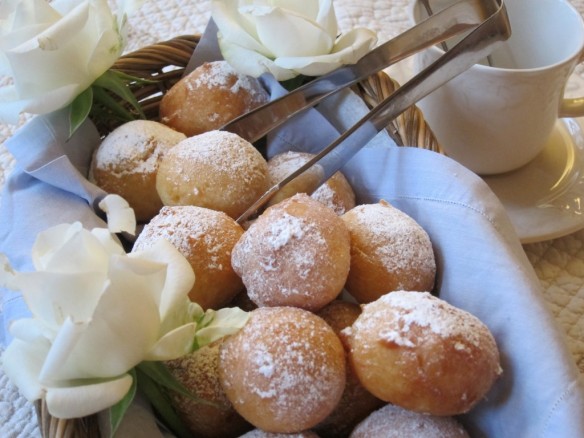 Add sugar to the butter kept at room temperature and mix until smooth and light then add, one by one the eggs by mixing constantly.
Then add the Greek yogurt and mix until the batter is smooth; Add the lemon zest and finely the sifted mix flour/baking powder and mix well.
Heat your frying oil until it reaches the temperature of 180°C ( 375°F). Meanwhile, form small balls of the size of a big coffee spoon by wetting your hands before.
Let fry these little donuts 2 to3 minutes each side. Verify to not put too many donuts at the same time.
When it is done, take them out of your frying bath and put them rapidly on a paper towel. Warm, powder the donuts with some icing sugar and serve as soon as they are ready.