This deliciously tangy combination of rhubarb and mint is a healthy and easy dessert served with natural yoghurt and ginger bread if you like !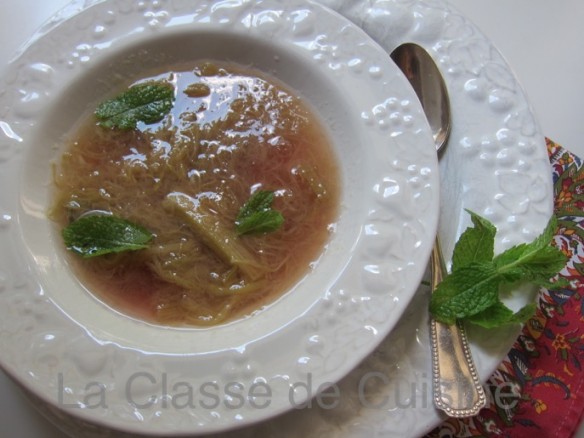 Serves 4                              Preparation & Cooking 20 + 20 minutes
2 cups (400 g) fresh rhubarb
6 sprigs fresh mint
8 Tbsp (120 g) caster sugar
1 slice lemon (optional)
1 1/4 cup (300 ml) water
Peel the stalks of rhubarb and cut in long strings. Wash and dry the mint sprigs and thin out the leaves.
Add the sugar and 300 ml of water in a saucepan. Bring to boil and add the chopped rhubarb. Cook for 20 minutes over low heat. Remove your rhubarb soup from the stove and add the mint leaves. Let cool for 30 minutes then set aside to cool in a fridge.
Divide the rhubarb soup into bowls, garnish with mint leaves and serve chilled.