Raise a sweet-and-spicy glass to sunny days with this crowd-pleasing cocktail. Starting our preparations for our cocktail a day in advance might sound a bit labour intensive. But spring Day comes once a year and the results are well worth it. This Pink grapefruit and ginger Fizz is just the perfect match to celebrate the day.
Serves 4 :
1 pink grapefruit
15 g ( 1 Tbsp) fresh root ginger, thinly sliced
1 peel of pink grapefruit, thinly sliced
80 g ( 4 Tbsp) caster sugar
chilled champagne or any sparkling wine like Prosecco.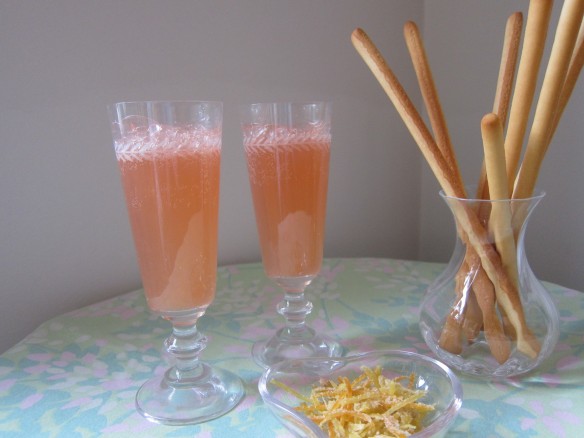 In a small pan, put the thin slices of ginger and pink grapefruit, cut in thin threads in 100 ml water with the sugar and heat gently, stirring until the sugar has dissolved. Simmer for 15 minutes. Strain over a jug to collect the syrup. Cool, cover and chill overnight. Place the candied ginger and grapefruit threads on a greaseproof paper, sprinkle with sugar and set aside.
the next day, to make the cocktail, squeeze 100 ml grapefruit juice and mix with 3 Tbsp of your syrup. Divide between 4 champagne flutes and topping each flute with fizz and Serve, cheers ! or A votre Santé !