These New Orleans Beignets or French Bugnes are not square like the ones in New Orleans but instead are twisted with a small hole in the middle, but also served with Confectioners' sugar. A delicacy and a real treat…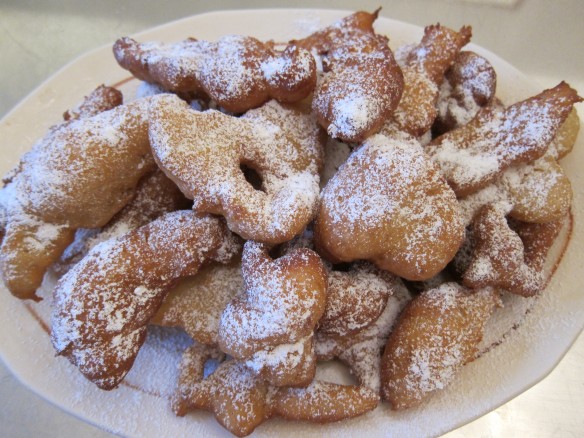 Here are all the ingredients you will need to make the New Orleans Beignets or French Bugnes for 6 people 
250 g ( 1 1/2 cup) flour + Active dry yeast  1/2 (1/8-ounce) a package
 A pinch of salt
2 free range eggs
30 g ( 1/4 cup) sugar
75 g ( 6 Tbsp) butter, melted
1/2 cup water or warm milk ( about 110°F)
3 cl ( 2 Tbsp) orange blossom
Oil for frying
Icing sugar.
Now here are the few steps you have to follow to make the New Orleans Beignets or French Bugnes
Mix flour, salt and yeast . Stir in eggs, beaten previously and then the melted butter but cooled with water or warm milk. Mix well and knead the dough with a wooden spoon. Let the dough rest at least 2 hours in a big bowl with a damp napkin on top .
After that time, spread the dough as thinly as possible with a rolling pin on a floured surface.
Once the dough is thinly spread, we take a small boxwood wheel preferably as it will not stick to the dough and allows to make lines in the form of small zigzags and draw diamonds of paste which are cut into their middle then take one of the points of each diamond and pass it into the slot. Cover lightly and set aside to rise again until doubled, about 30 to 45 minutes.
In your largest skillet, heat a frying oil, but not just any oil because of the temperatures reached. Preferably sunflower oil or rapeseed oil.
Fry the beignets for 2 minutes, turning halfway through cooking in hot oil to 360°F (190°C), remove with a slotted spoon as soon as they are puffed and golden.
Lay on paper towels and let cool down.
Just before serving, sprinkle with icing sugar by putting some powdered sugar into a sieve and sprinkle it liberally over the beignets, and enjoy warm or cold.