When you want a nice late winter dessert, but still healthy, choose these delicious Apples with a crunchy biscuit topping that is surprisingly easy to make at laclassedecuisine.com !
Ingredients for 4 People:
4 large farm apples
3 Tbsp sweetened condensed milk
6 Tbsp Mascarpone
8 spéculos ( Belgian biscuits) or digestive or biscuits
11/2 Tbsp (20 g) butter
1 1/2 Tbsp (20 g) brown sugar (optional)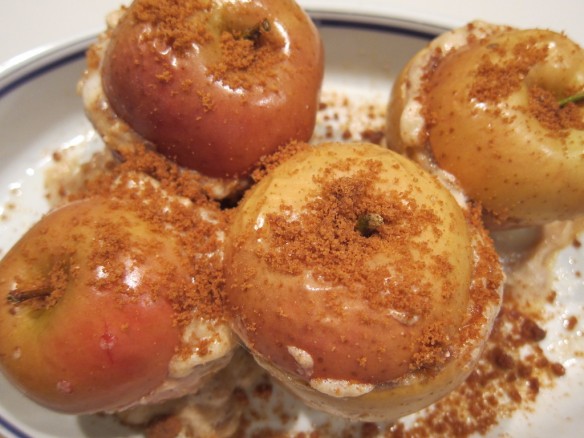 Preheat your oven at 350°F (150 °C) and then wash and dry the apples and butter a baking dish.
Cut a hat on the apples at 1/3 of their height. Hollow out the bottom, leaving a little flesh in the "shells". Crush the "Speculos" to a powder with a rolling pin and mix with mascarpone, sugar and condensed milk.
Fill the apples with this mixture and arrange the apples in the baking dish. Sprinkle with small chips of butter and the remaining Speculos powder. Replace the caps on top of the apples and bake for about 30 minutes. Serve hot or warm.