When choosing a dessert, consider the previous course, the season of the year, and the special preferences of your guests. Dessert made of fresh fruit at its best always enhance a meal.  That is why, see it all at… laclassedecuisine.com !
Ingredients for 4 People:
2 apples
2 small fresh eggs, separated
1/2 cup mascarpone
3 big Tbsp caster sugar
2 Tbsp honey
4 speculoos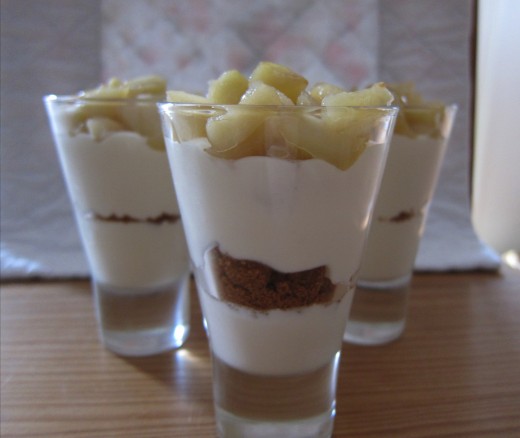 Peel and cut apples into small cubes, put them in a pan and cook until beginning to get coloured. Add honey, stir and cover the pan. Let cook, then remove from heat as soon as apples got a nice golden color. Set aside and Refrigerate.
In a bowl, mix the mascarpone and egg yolks. Set aside. Then, beat your egg whites in the bowl of your mixer and whisk the whites and when half way, add half of the sugar. Continue to whisk and towards the end, add the remaining sugar. They must be very firm and shiny.
Pour slowly and gently the egg whites into the mascarpone mixture using a flexible spatula without dropping the cream.
Arrange evenly your preparation in 4 glasses starting with the mascarpone mixture then crumbled speculoos, continue with the mascarpone mixture and ending with the diced apples.
Chill about 1 hour and serve when well chilled.