This Frozen Yogurt, Sauce Chocolat is an anti Anemia dessert, especially if you add pistachios, and almonds that contain iron. It also complements well a spicy meal or a comfort meal because very refreshing …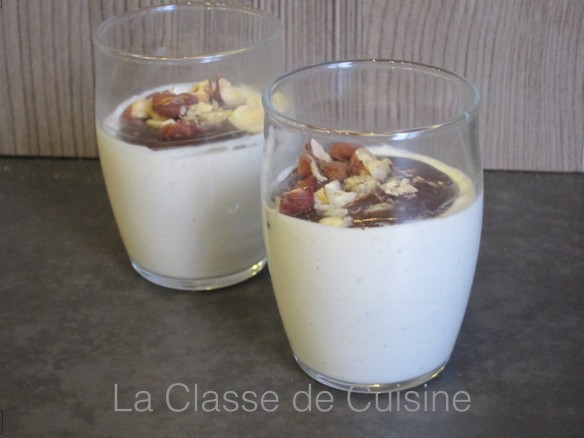 Here are the ingredients you will need for the preparation of the recipe Frozen Yogurt, Sauce Chocolat for 4 People, done within 15 minutes
4 plain yogurts
5 Tbsp (80 g) black chocolate with 70% cocoa
3 to 4 Tbsp (50 g) hazelnuts and almonds
4 tbsp brown sugar
1. Tbsp orange blossom
Now to make the Frozen Yogurts, Sauce Chocolat, here is the way to go, very simple and easy
Pour the yogurts into a big bowl. Add the brown sugar and the table spoon of orange blossom. Mix until smooth. Pour into 4 glasses and place 2 hours in the freezer, stirring regularly every 30 minutes.
Just before serving the frozen yogurts, melt the dark chocolate over low heat with a little water, coarsely chop the hazelnuts and almonds.
Pour some chocolate sauce into each glass of frozen yogurt, sprinkle with hazelnuts and almonds and serve. a delight.