The Pavlova is truly a very elegant dessert. This Exotic Fruits Pavlova made with pineapple, mango, papaya, pomegranate, and kiwi is the embodiment of what a refreshing chef's dessert should be!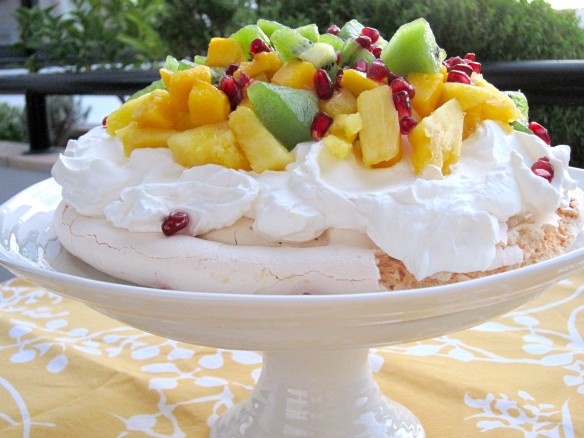 First, here is the list of the different ingredients you will need to prepare this Exotic Fruits Pavlova that serves 6 people.
For the meringue
4 egg whites
1 dash of salt
100g  or 4 oz granulated sugar
100g or 4 oz icing sugar
For the chantilly
250ml or 1 cup and 1/4 cup whipping cream (30% fat)
50g or 2 oz icing sugar
1 vanilla pod
The exotic fruits : 1 small pineapple, 2 mangos, 2 papayas, 2 kiwis, 1 lime et 1 pomegranate
Now, here are the different steps you need to follow to prepare this great dessert with a préparation time of 30 minutes and a cooking time of around 1 hour and 30 minutes.
Rince and dry the lime, then shred the zest. Place in a large bowl the egg whites and beat them until softs no peaks begin forming. Add in one motion the sugars, and continue mixing for 5 minutes until a firm and shiny meringue is obtained.
Preheat your oven to 100°C on convection mode. On a baking sheet, trace a circle the size of your choice and place it on a baking tray. Using a spatula, fill the circle with the meringue mix keeping a thick layer overall with a slight dip in the middle. Place in the oven and cook for around 3 hours. ( depending of your oven).
Prepare and cut all the fruits in small cubes. Mix the cold whipping cream into a chantilly along with the vanilla pod seeds and the 50g of sugar.
Place the chantilly on the cool meringue, add the fruits and decorate using the lime zest if you so desire.