To celebrate this year's Christmas Eve, I have put together a special section dedicated to the lovely and sweet festive cooking. Find the best home made Chocolate Truffles…
Ingredients for 500 g (1 lb) Truffles:
250 g ( 1/2 lb) dark chocolate for cooking.
1 Tbs vanilla sugar
185 g (3/4 cup) whipping cream
150 g (1 cup) dark chocolate
Dark Hershey Cacao powder in option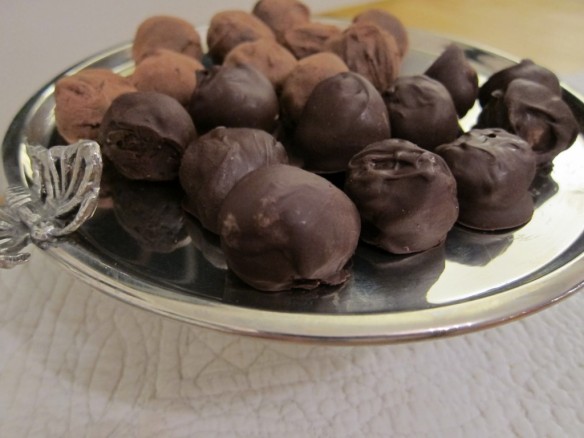 Boil the cream, throw in the crushed chocolate. Stir well until melted and smooth. Add the vanilla sugar. Pour into a bowl and let cool 12 hours in the fridge or over night.
After this time, make small balls like walnuts and put these "walnuts" of chocolate on an aluminium foil.
Refrigerate until completely hardened.
Meanwhile, melt in a double boiler the cup of dark chocolate  by working with a wooden spoon until smooth. Dip the small balls in melted chocolate and roll them with a fork in the melted chocolate. Then, if you want, roll them in the cacao powder.
These truffles can be stored for two weeks.