This wickedly indulgent dessert combines layers of chocolate custard, cherries and whipped cream for a totally heavenly experience !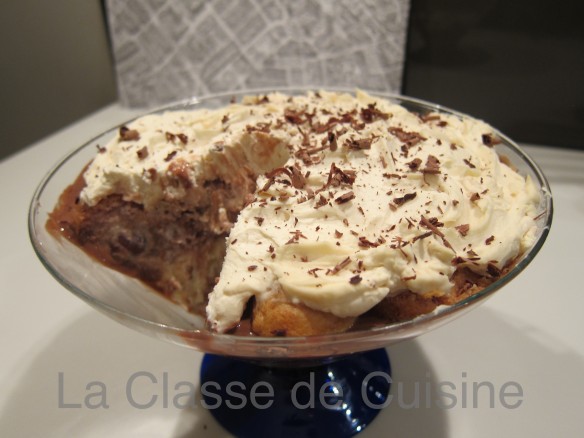 Serves 6 to 8                          Preparation & Cooking Time  25 minutes
3 Tbsp (45 g) dark chocolate
1 1/3 cup (250 ml) vanilla custard (home made or bought in store)
1/2 cup (125 g) Mascarpone
1 1/4 cup (300 ml) whipping cream
2/3 cup (180 g) jar black cherries
5 oz (150 g) Sponge fingers
Break 30 g of the chocolate into small pieces and place in a bowl over a pan of simmering water. when the chocolate has melted, remove from heat and stir in the custard. Or if you made your custard home made, just spread the small chocolate pieces in the hot custard and mix gently until completely melted.
In a separate bowl, whip the mascarpone and cream until smooth and slightly thickened.
Drain the cherries. Arrange a layer of sponge finders in the base of a large trifle dish or glass bowl, spoon some cherry juice and put some cherries over. Spoon over a third of the cream mixture.
Add another layer of sponge fingers, juice and cherries, then the chocolate custard. Spoon over another third of the cream mixture.
For the final layer, add the remaining sponge fingers and juice, scatter over the cherries and top with the cream mixture. Decorate with the remaining chocolate that you have grated. Chill until ready to serve and Enjoy !