Ingredients for 4 or 8 people:
125 g (1/2 cup) or 250 g ( 1 cup) of butter
125 g (1/2 cup) or 250 g (1 cup) of sugar
125 g (1/2 cup) or 250 g (1 cup) chocolate
3 eggs or 6 eggs you'll separate the whites from the yolks.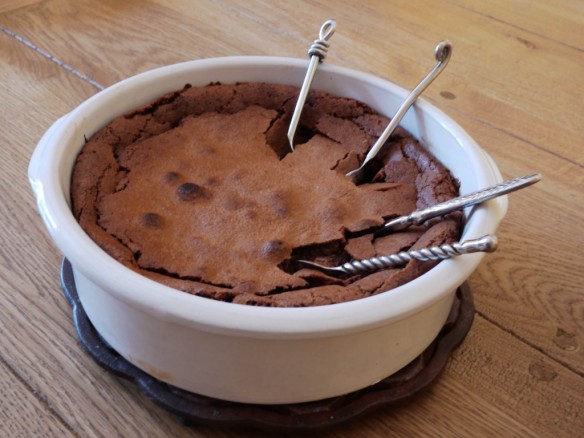 Melt chocolate and butter over very low heat. When completely melted, remove from heat, mix well and set aside. Beat the egg yolks and sugar until frothy then mix the two preparations.
Beat the egg whites until stiff and gently stir in chocolate mixture.
Put the preparation in a buttered porcelain pie dish about 30 cm diameter and bake in a preheated oven at 180° C (350° F) for about 20 minutes.
The cake will rise and then fall back, leaving a raised crust on the edges.
Serve in the dish, luke warm.
This cake is a delight, and the fact that it is difficult to unmold removes any worries of presentation. Finally, you will not often have the opportunity to encourage everyone to eat from the plate at the same time but for a friendly reunion it is so much fun …