This tart is the perfect spring dessert. A stunning dessert without having to turn your oven on! Now that is what I call a show stopping dessert and so easy to make !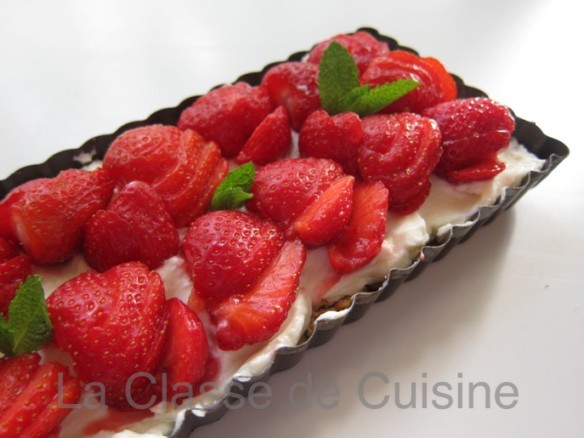 Serves 4 to 6 people           Preparation 15 minutes
5 oz (150 g)  graham crackers
4 oz (100 g) butter, melted
1 cup (250g) mascarpone
Juice of one lemon
4 Tbsp (60 g) powdered sugar
2/3 cup (250 g) strawberries
a few sprigs fresh mint
To make the crust, mix the graham crackers into crumbs and mix with the melted butter. Press the crust into a rectangular tart pan, if you have one. If not, a round tart pan will also work. Chill for 30 minutes.
Wash the strawberries, then cut the green part. Set aside. Beat the mascarpone with the sugar and lemon juice until smooth and creamy.
Remove the pie shell from the refrigerator and top the graham cracker base with your mascarpone cream and the prepared strawberries on top. Garnish with mint sprigs, set to cool and serve chilled.