A delicious make in advance dessert. You can add a couple of cooked stem ginger on top for decoration, to add some zest.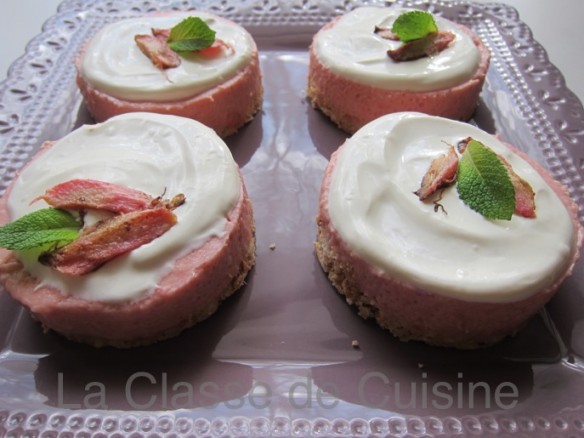 Serves 6                             Preparation and Cooling Time 20 + 2 hours
1 pound (450 g) rhubarb, chopped
60 g caster sugar
2 tsp powdered gelatine like agar agar
4 oz (120 g) biscuits, crushed
2 oz (60 g) butter, melted
5 fl oz (150 ml ) double cream, whipped
3 Tbsp (45 g) sour cream for decoration
Put the rhubarb in a saucepan with 2 Tbsp water and the sugar. Bring to the boil, stir, cover, reduce  heat and cook gently for 5 to 7 minutes. remove the lid and boil rapidly for about 5 minutes, stirring occasionally until the rhubarb is pulpy.
Stir in the gelatine until dissolved and set to cool.
Mix the crushed biscuits with the melted butter. Press into the base flan dish or individual base dishes and chill to firm.
When the rhubarb is cold but not set, fold the  whipped cream and transfer to the flan case. Smooth the surface and chill.
Just before serving, spread the sour cream on top and dispose the cooked stem ginger with a mint leave for decoration and enjoy.