The Red Plum Tart in Lorraine Region, North-East of France, is not only famous for its Quiche, but also for its Plum Tart. This quick version with almond powder on its base helps the juice from the fruits to mingle with the sugar to bring a deliciously moist but also crisp result !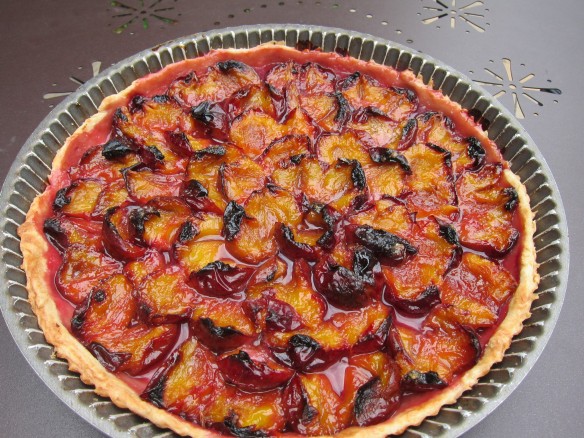 First, here are the different ingredients you will need to make this Red Plum Tart that serves 4 to 6
1 short crust Tart dough (see Tip / Astuce ) or purchased
500 g 2 cups) Quetsches or Red Plum
60 g 4 Tbsp) almonds powder
100 g (1/2 cup)  brown sugar powder
Now, here are the few steps to follow to  make this Red Plum Tart with a 35 to 40 minutes cooking time
Preheat your oven to 356°F (180 °C) . Roll out the pastry and place into a greased and floured pie tin. Prick the pastry and sprinkle with almond powder. Cut the plums in half, remove the stones and then re-cut them in half. Place the plums like rose petals on your fruit pie shell.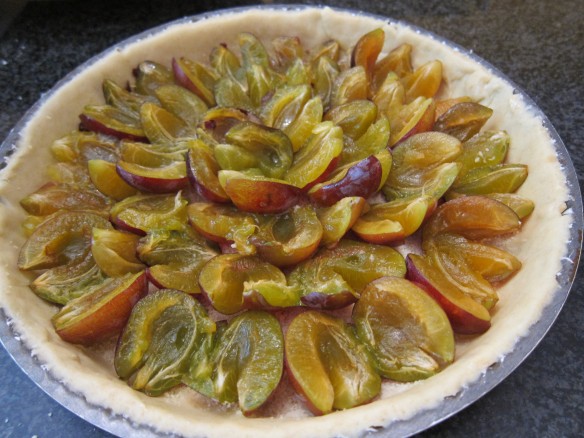 Sprinkle with the sugar and bake for about 35 to 45 minutes. Once your dough is golden brown on the edges, remove the tin from the oven and let cool. Finally, un-mold and serve on a platter along if you like with a vanilla ice cream scoop …