Raspberries, also very common in the wild, are on the market until the end of October. These berries packed with antioxidants that are so badly needed and so good for our health, does not make us think twice about eating them or to use them by preparing these Raspberry Yogurt Scones.
Ingredients for 6 People:
2 cups (260 grams) all-purpose flour
1/4 cup (50 grams) granulated sugar
2 teaspoons (10 grams baking powder
1/4 teaspoon salt
1/3 cup (75 grams) cold unsalted butter, cut into pieces
1/2 cup (120 ml) plain yogurt
1 cup Raspberries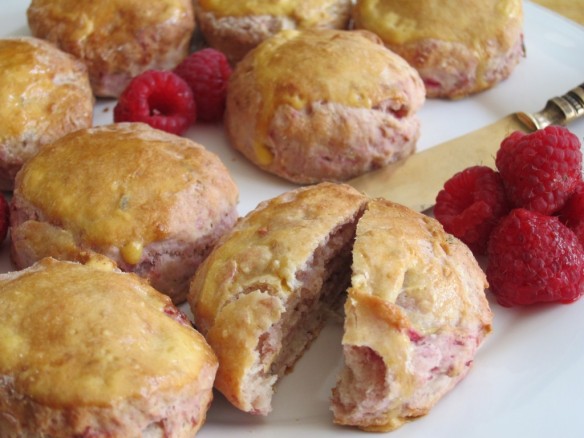 Preheat oven to 375° F (180° C) Line a baking sheet with parchment paper.
In a large bowl, whisk together the flour, sugar, baking powder and salt. Cut the butter into small pieces and blend into the flour mixture with a pastry blender with your fingertips. (The mixture should look like coarse crumbs.) In a small measuring cup whisk together the yogurt and the raspberries. Add this mixture to the flour mixture. Stir just until combined. Do not over mix.
Transfer to a lightly floured surface and roll the dough gently with a rolling pin. Then, using a lightly floured 2 1/2 inch (6.5 cm) round cookie cutter, cut the dough into rounds. Place the rounds on the prepared cookie sheet, spacing a few inches apart. Brush the tops of the scones with a little milk if you wish. (This helps to brown the tops of the scones during baking.)
Bake for about 15 to 20 minutes or until a toothpick inserted into the center of a scone comes out clean. Remove from oven and transfer to a wire rack to cool. Serve with butter and your favorite jam. There are just delicious.
These scones are best the day they are made but can be covered and stored for a few days.