The nectarine and the Cherry! As soon as we see it we want to grab it. As soon as you have it in your hand, you want to bite into it. With this Nectarine and Cherry Crumble it's the cute sin of the summer season.

First, here is the list of the different ingredients. You will need it to prepare the Nectarine and Cherry Crumble that serves  4
750 g or 1 3/4 lb nectarines
250g or 9 oz cherries
6 sprigs basil
80 g or 3 1/2 oz semi-salted butter
120g or 4 1/2 oz caster sugar
80 g or 3 1/2 oz flour and 80 g or 3 1/2 oz ground almonds
Now, here are the few steps to follow to make this delicious dessert. Its preparation will take about 20 minutes
Bring 100 ml or 3 1/2 fl oz of water to the boil with 50 g or 2 oz sugar. Off the heat, let the basil infuse for 10 minutes. Rinse the nectarines and pat them dry. Stalk and pit the cherries. Cut all these fruits into pieces. Drizzle them with the luke warm basil syrup. Set aside.
Preheat the oven to 180°C or 375° F. Mix with your fingertips, the butter, the rest of the sugar, the flour and the almonds.
Divide the drained fruits into ramekins or a large dish. Sprinkle them with your crumbled dough. Bake for about 20 minutes then 3 minutes under the grill.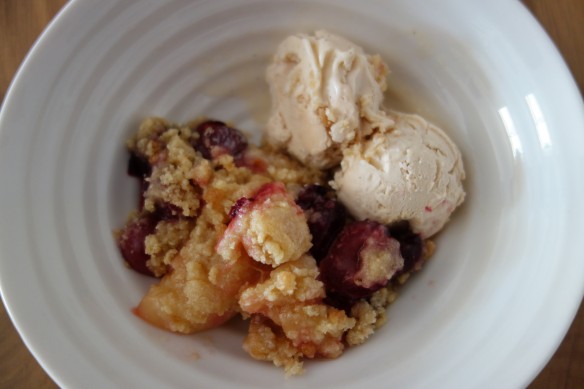 Serve immediately or warm with a scoop of sorbet or ice cream for example and if you like!