Here you have a favourite dessert from the USA, but in an individual way, filled with a variation like crushed Walnuts and Nutmeg, which complement Cinnamon just as happily and see how its done at laclassedecuisine.com !
Ingredients for 6 People:
4 cups Apples
1 Egg
1 Tbsp lemon juice
1 tsp cinnamon
1/4 cup cornstarch
1/2 tsp Nutmeg
1/2 cup granulated sugar
1/4 cup crushed walnuts
1 pinch of salt
1 package of Pie crust
1 cup Water
1 egg beaten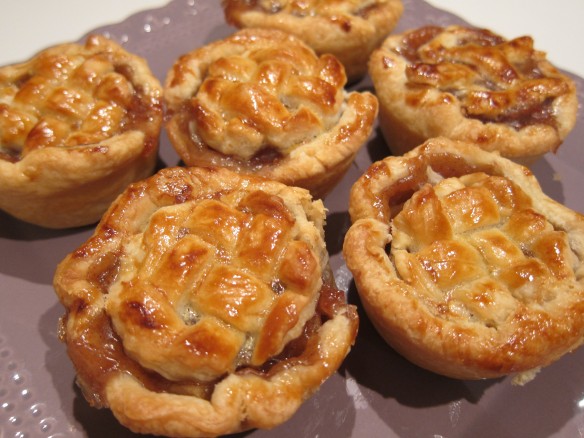 Preheat oven to 425 degrees. Grease a 12-cup muffin tin thoroughly and set aside.
Peel core and chop apples into small pieces and toss with some lemon juice. Set aside.
Combine sugar, cornstarch, cinnamon, nutmeg and salt in a small saucepan. Pour in water and stir until incorporated. On medium heat, bring mixture to a gentle boil for 3 minutes stirring frequently to prevent scorching on the bottom. Once mixture is thickened slightly, add apples and toss bringing the mixture to a gentle boil once again. Reduce the heat to low and simmer for 10 minutes or until the apples are tender. Take mixture off heat and allow it to cool slightly.
While mixture is cooling, unroll one crust onto a flat surface. Start by cutting circles with a cookie cutter or rim of a glass. Place each disk into each muffin tin cavity, pressing them into the bottom and up the sides. Fill with apple pie filling about 2/3 to the top.
With the second pie crust, unroll and cut into strips. Cut the long strips into 2 1/2″ smaller strips. On a flat surface, place three strips vertically and three strips horizontally, creating a lattice pattern. Press down slightly with the palm of your hand so that they stick together.
Transfer lattice crust to the muffin tins and place on top of the apple pie filling. Press down slightly around the edges and trim away the excess with a sharp knife.
Brush the tops of the apple pies with egg wash, and bake for 15-17 minutes or until tops are golden and cooked through.
Mini apple pies are best served the same day made but will keep for up to 2 days stored in an airtight container.