This is a very simple dessert but so good with seasonal fruits cooked to a jammy consistency and then topped with a not too sweet breakfast style biscuit.
Ingredients for 4 People:
350 g (about 2 cups) stone fruits (for me it was Apricots)
80 g (2/3 cup) granulated sugar
175 g (6 oz) flour
1 1/2 teaspoons baking powder
1/2 teaspoon salt
50 g (3 Tbsp or 1/2 stick) cold unsalted butter, cut into small pieces
80 ml ( 3 oz) milk
1 egg, lightly beaten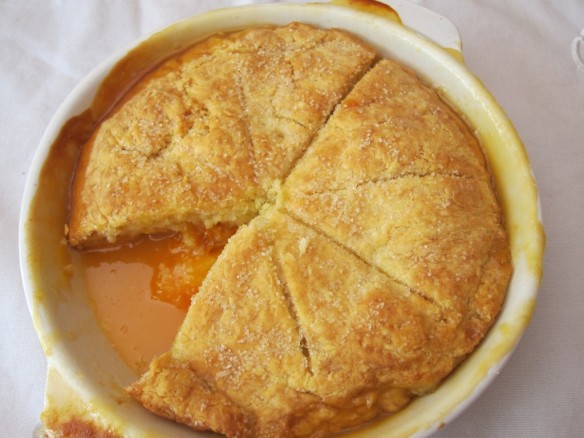 Rinse, dry and stone the apricots or other stone fruits you choose. Put them in a saucepan with the sugar and let the fruits cook to a jammy consistency.
Preheat your oven to 200 ° C. Meanwhile, make your biscuit dough.
In a large bowl, mix together flour, baking powder and salt. Cut the butter into the mixture until the mixture resembles to coarse crumbs (use your fingertips). Add milk and your slightly beaten egg and mix until everything is well blended. (The texture should be sticky, moist and lumpy.)
Put your dough on a lightly floured surface. Knead the dough gently until you get a smooth paste flouring your fingers if necessary.
Roll out the dough. Yet, your fruit compote is ready, pour it into a porcelain dish and place your rolled out biscuit dough on top.
Pre-cut the biscuit dough into 8 equal parts, then sprinkle with sugar and bake for about 30 minutes or until the top is just golden. Remove from oven, let cool a few minutes and enjoy warm, it's just delicious!