Ingredients for 6 People:
1 fresh sweet crust pastry or 350 g frozen shortcrust pastry
2 eggs
200 g (3/4 cup) caster sugar
75 g (1/4 cup) butter
1 grapefruit ( juice + zest )
For the filling: 1 grapefruit + 1/2 cup water + 250 g (1 cup) caster sugar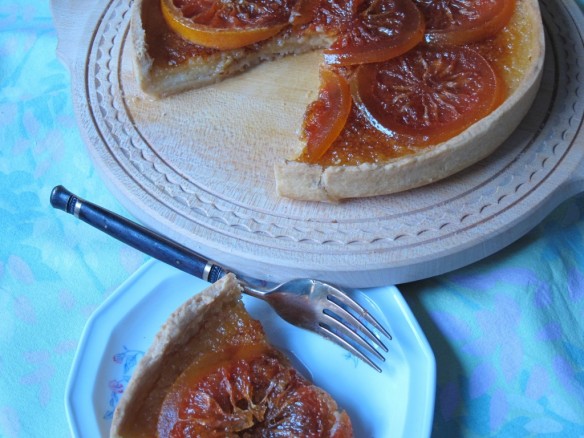 Spread your Shortcrust fine enough in your pie dish and refrigerate a couple of hours . Preheat the oven at 200 °C (400°F). Brush both grapefruits in cold water.
Beat the eggs and sugar until creamy. Add the melted butter, the juice of one grapefruit and 1 Tbsp grapefruit zest. Pour and spread the batter on your pie shell and bake in the hot oven about 35 minutes.
Meanwhile, cut the second grapefruit horizontally into very thin slices. In a large skillet, pour the water and sugar. Boil uncovered for about 3 minutes to obtain a syrup. Drop in grapefruit slices, side by side, in two batches if necessary and boil until the grapefruit skin is translucent and bright.
Arrange the grapefruit slices on the baked pie, unmolded and put a few minutes in the oven to caramelise. Serve warm or cold.