To make your own French Strawberry Tart, get a Strawberry festival near you where you can harvest your own strawberries with friends and family. Florida, California, Texas and more have a yearly Festival celebrating this emblematic little red fruit. In Canada, and precisely in Quebec, June is strawberry season…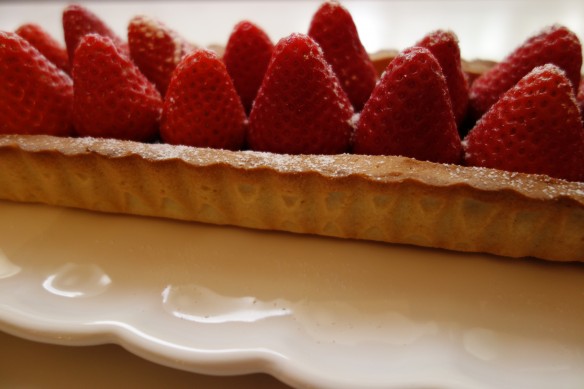 First, here is the list of the different ingredients you will need to make this French Strawberry Tart that serves 4 to 6
Make a sweet dough (see recipe link)
250 g strawberries  French or Belgian type
Whipped cream (optional).
Red Berry jam
Here are now the few steps you will need to follow to make the French Strawberry Tart in 45 minutes
Make your tart dough and place it in a  buttered and floured tin. Prick your dough several times and garnish your tin with glass beads or chickpeas to make weight on your dough and bake in a preheated oven for about 35 minutes or until pastry is golden.
Take your tin from the oven and let cool. Meanwhile, wash and hull the strawberries and dry them.
When cooled, pour over your dough with a thin layer the berry jam then place the strawberries tight against each other on top. Serve immediately accompanied by a bowl of whipped cream if you like.