These sweet, individuals sticky sponges cry out for cream. Making a quick marmelade from the clementines concentrates their flavour. It is just to die for and see how its done at… laclassedecuisine.com !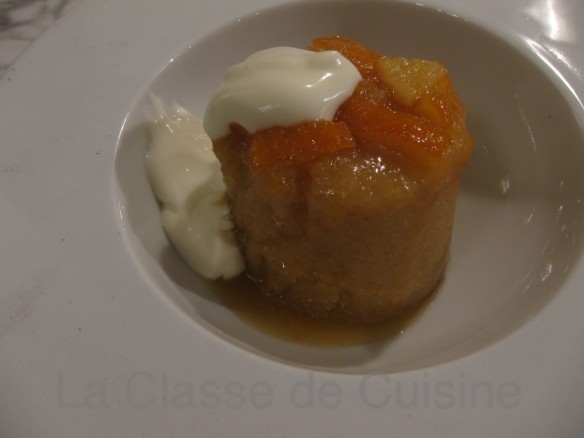 Serves 6                                 Cooking time 45 minutes
125 g (1/2 cup) butter, softened plus extra for greasing
6 clementines
Juice of 1 lemon
320 g (1 1/3 cup) light brown sugar
2 free range eggs, lightly beaten
90 g (1/2 cup) self raising flour
90 g ( 1/2 cup) ground almonds
1 tsp ground ginger
Grease 6 x 150 ml dariole moulds ( or muffin moulds) with butter. Put a circle of baking parchment in the base of each. Finely shop 3 unpeeled clementines, boil in a pan with 250 ml ( 1 cup) water for 20 minutes, until soft.
Stir in the lemon juice and 200 g (3/4 cup) sugar, return to a brisk boil and cook for 35 minutes, stirring often, until syrupy. Set aside.
Preheat the oven to 180°C ( 356°F ) . Grate the zest from the 3 remaining clementines, squeeze the juice into another bowl. Mix 6 Tbsp marmelade with 1/3 of the juice. divide between the moulds.
Cream the butter and clementine zest with the remaining 120 g sugar until fluffy. Gradually beat in the eggs, then fold in the flour, almonds and ginger. quickly stir in the remaining marmelade and juice, then divide evenly between the moulds and smooth the tops.
Cover each mould with a piece of foil, tucking it under the rim. Put them in a deep roasting tin, set on the oven shelf and pour in boiling water until it comes halfway of the moulds.
Cover the tray tightly with foil and bake for 45 minutes, until the puddings feel spongy to the touch. Remove the puddings from the tin. Leave to stand for a few minutes, then take off the foil lids, run a knife around each pudding and invert onto a plate;
Serve lukewarm with some cream !