It is always a pleasure to bake and without difficulty we may discover the Southwest of France with here, one of my best traditional recipe: 
The Cannelés, these little wonders have a crispy outside shell and very soft inside and have variables with either orange-flower water or rum…
Ingredients for 8 big Cannelés: Cooking Time: 1hour 15 mn
¼ liter (1 big cup) milk
25 g (1 big Tbsp) butter
50 g (1/4 cup) flour
100 g (1/2 cup) sugar
1 whole Egg + 1 Egg yolk
1 tsp vanilla extract
1 tablespoon Rum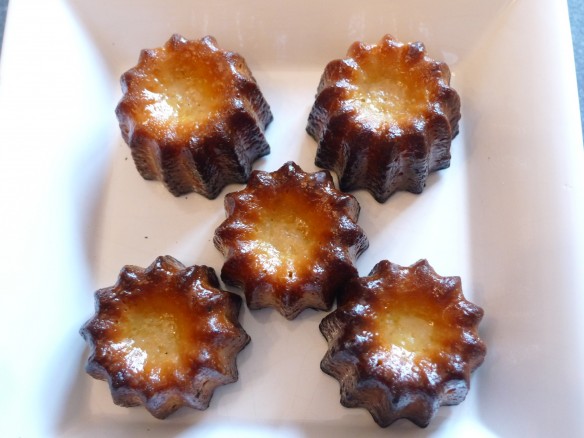 In a saucepan, bring the milk to a simmer, add the butter cut into dices. Mix well and let cool to lukewarm.
In a bowl, mix the egg, egg yolks, sugar and vanilla and whisk until foamy. Slowly add the rum and flour. Add the milk slowly and whisk until smooth. Pass it through a sieve if necessary. Let the batter rest in the fridge overnight.
the newt day, when the batter has rested, preheat the oven to 425F, position a rack in the center. Divide the batter evenly among the cannelés tins, generously coated with cooking spray or well oiled if you use copper. Start Baking them for 10 minutes in your very hot oven and then for 1 more hour in. The will be scortching hot right out of the oven, so let them cool 20 minutes or so before enjoying them.