This Provençal condiment based on capers, tuna and black olives, crushed in a mortar and seasoned with olive oil and lemon juice is also a highly recommended accompaniment to all kinds of fresh salads, especially during summer time…
Serves 4 to 6                 Preparation 20 minutes
2 garlic cloves
150 g (5 oz) pitted black olives
60 g (2oz) drained tuna fish
60 g (2oz) capers
juice of 1/2 lemon
100 ml (1/3 cup) Olive Oil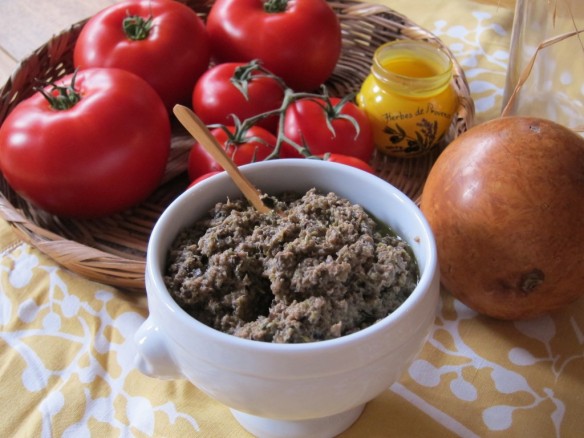 Peel the garlic cloves and place them in the blender with the pitted olives. Add the tuna fish and capers.
Put the puree in a mortar and crush with gradually adding the lemon juice. The tapenade should become thick and fairly smooth. Slowly add the olive oil to the paste a drop at a time, while stirring, as you were making mayonnaise.
Sometimes thyme, bay leave or a drop of brandy is added to the tapenade!
Once completed, put it in a cool place into a pottery bowl and just before serving, spread it on slices of toasted bread. You may also garnish boiled eggs (by mixing the yolk). It can also accompany grilled fish.