Stuffed Mushrooms with Snails. Some prefer Burgundy snails, bigger than all other species, but the famous "little gray" also have their fans. They are found mainly in the south, grilled, cooked with wine but also prepared with a butter maître d'hôtel.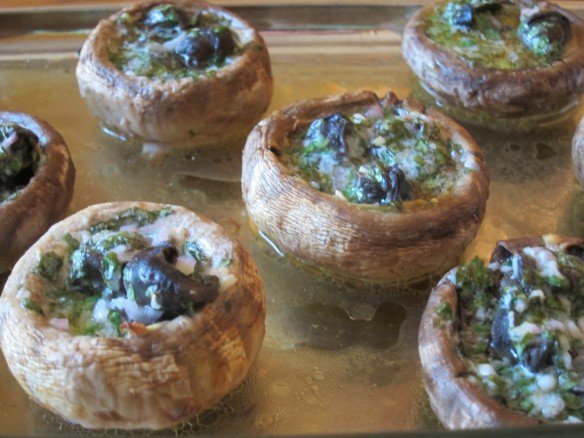 First, here is the list of the different Ingredients you will need to make the Stuffed Mushrooms with Snails that serves 4 
24 Paris mushrooms about the same size
1 jar or can with 24 snails
For the herb butter :
100g or 1/2 cup butter
1/2 shallot
1 Tbsp chopped parsley
2 garlic cloves
1/2 lemon juice
1 pinch nutmeg
Salt and ground pepper
Now, here are the few steps you will need to follow to make the Stuffed Mushrooms with Snails with a preparation time of 20 minutes
To start, make the herb butter by working the butter at room temperature together with the very finely chopped shallot, chopped parsley, crushed garlic, nutmeg, lemon juice, salt and pepper . Mix everything very carefully and refrigerate.
Then, brush and rinse quickly under running cold water the mushrooms, then dry them immediately. Carefully detach the foot of each mushroom . Arrange the mushroom caps, hollow side facing up, in a baking dish or four small baking dishes, lightly buttered.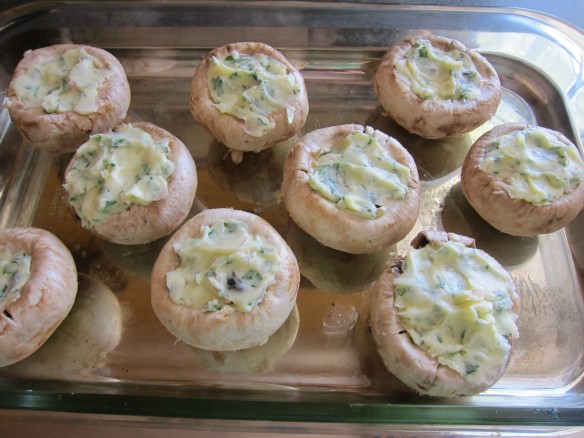 Next, drain the snails and put one snail in each mushroom cup. Cover each snail with a knob of herbed butter. After that, put your dish/dishes 10 to 15 minutes in a preheated oven at 220 °C and as soon as ready, enjoy right out from the oven with a good sourdough bread.