This simple and fast recipe of Madeleines transformed into sandwiches is made with remains of Sardine Rillettes and some dried tomatoes. A real treat that all my girlfriends loved and that you will do in no time !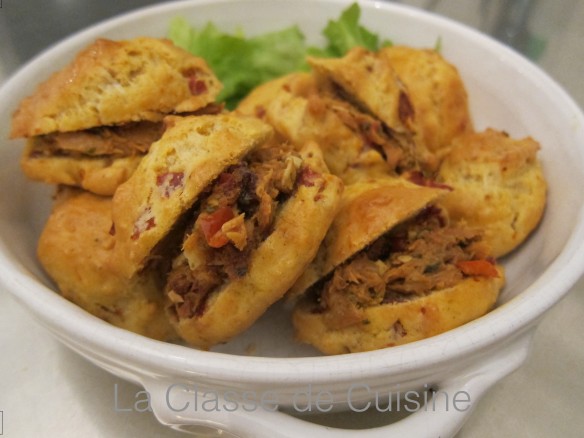 This is what you need for the preparation of the Madeleine Sandwiches for 6 people
5 oz (150 g) leftover sardine rillettes
1 small cup (200 g) dried tomatoes
4 eggs
3 Tbsp (30 g) grated Gruyère cheese
2/3 cup (160 g) flour
7 Tbsp olive oil
1 Tbsp baking powder
1 tsp dried thyme
Some sprigs of flat parsley
Salt and freshly ground pepper
Now here is how to proceed to make the Small Madeleines Sandwiches.
Preheat the oven to 475°F (240 °C). Butter and flour the alveoli of the madeleine tins. Drain the dried tomatoes and roughly chop them with a knife.
Then, break the eggs separating the whites from the yolks. Mix the yolks with the flour and yeast. Beat lightly the whites and incorporate them into the previous mixture. Add the oil, a pinch of salt, pepper and mix well. Stir in the grated Gruyere, tomatoes, thyme and parsley.
Fill each alveoli with a tablespoon of dough and put in the middle of the oven for 4 minutes then lower the temperature to 400°F (200 °C) and continue the cooking for about 6 minutes or until the madeleines are golden brown. Repeat until all the dough is gone.
To serve, cut the madeleines in two and garnish with your Rillettes. It is delicious in gourmets aperitifs !