Ingredients for 2 people:
4 slices Genius or whole grain bread, toasted
100 g (4 oz) turkey slices or thin breast pieces
150 g (6 oz) dried cranberries or cherries
50 g (3 Tbsp) Gongonzola cheese or bleu d'Auvergne
2 teaspoon raspberry vinegar
2 handfuls rocket salad
1 Tbsp olive oil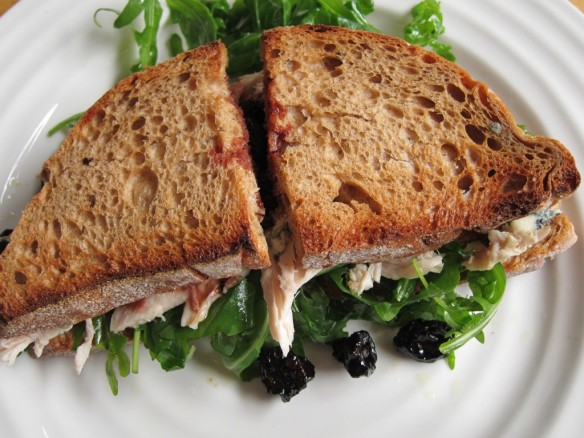 Combine cranberries or cherries and vinegar in a small bowl and season with salt and pepper, stir and set the mixture aside to macerate about 10 minutes.
In another bowl, toss the Rocket salad with olive oil. Layer the salad, sliced ​​turkey breast and cheese on the bread, sprinkle with the cranberries or cherries mixture. Close your sandwich with the second slice of toasted bread.
Flatten your two slices of bread and wrap them firmly with plastic foil. To serve, take off the foil, cut the sandwich in half and serve them with wooden picks to hold them better together if you wish.
"The turkey and cranberries/cherries is packet with all the nutrients that we need for a healthy diet".