Low in calories, high in fibre and diuretic, nicknamed asparagus of the poor, it is a slimming food by excellence. Lets enjoy it with its nicknamed cousin in this Leek & Asparagus Pizza that even the children love, thanks to its sweetness. So … Bon Appetit at Laclassedecuisine.com !
Ingredients for 4 People:
(200 g) 3/4 cup flour (spelled if possible)
1/2 cube fresh yeast or 1 lyophilised yeast sachet
125 g (5 oz) fresh goat cheese
6 Tbsp whipping cream
1 garlic clove
200 g (7 oz) cherry tomatoes
2 small leek
1/2 bunch green Asparagus
Salt and ground pepper
Herbes de Provence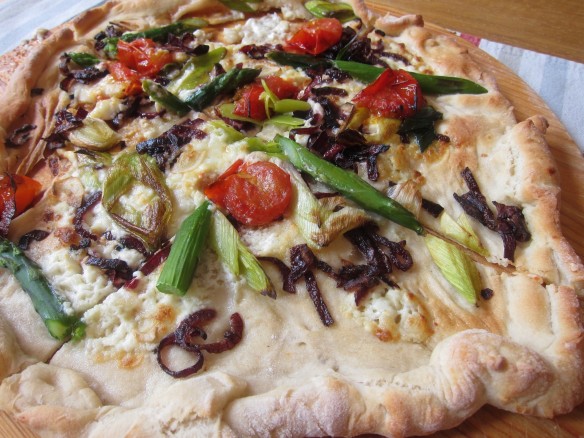 Dissolve the yeast in 200 ml (1small cup) warm water. Put the flour in a bowl, make a well, pour the dissolved yeast and knead for about 5 minutes to obtain a smooth, elastic dough. Cover with a kitchen cloth and let rise for 1 hour.
Knead again then spread the dough in a thin layer on a pizza pan. Preheat your oven to 220 ° C or 410°F. Once washed and dried, cut the leeks into thin slices. Sweat them in a little olive oil for 5-7 minutes. Peel the garlic and cut into thin strips. Cut the tomatoes in half and sauté for 5 minutes in a pan to make them lose their water. Cut the already washed Asparagus in small stems and put in a boiling water pan for 5 minutes then drain.
Mash the goat cheese with the cream, salt and pepper. Spread this smooth mixture over the pizza dough evenly, add the vegetables and cook for about 20 minutes. Serve immediately and enjoy…