Spring is in the Air. So why not start to celebrate with these scrumptious oven-baked Spring Rolls… A delicious and nutritious way to enjoy this new season !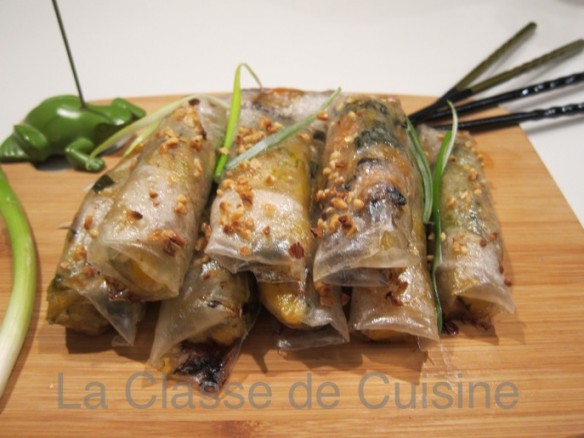 Serves 4                             Preparation & Cooking Time 35 minutes
1 Tbsp rapeseed oil
2 Tbsp finely chopped fresh root ginger
2 garlic cloves, finely chopped
1 Cup (220 g) coarsely grated carrot
3 Cups (650 g) mixed baby greens
1 bunch spring onions, halved and thinly sliced
2 Tbsp (30 g) fresh coriander roughly chopped
1 Tbsp sesame oil
8 rice sheet
1 Tbsp (15 g)  butter, melted
3 Tbsp (45 g) hazelnut chopped.
Preheat the oven to 400°F (200°C). Heat the rapeseed oil in a wok. Add the ginger, garlic and cook for just a few seconds. Add the carrot, spring onions ( reserving a few to garnish). Stir fry for about 3 minutes. Add the coriander, sesame oil and toss together well. Set aside to cool.
Place the rice paper circles on a clean work surface. Take one rice paper, damp it with water and, spread 2 to 3 tablespoons of the vegetable mixture along; Add some baby greens, leaving some space at each side. fold these sides over the filling and roll up.
Transfer to a baking sheet, seam side down and brush with a little melted butter and sprinkle with the copped hazelnuts. Repeat to make 8 spring rolls. Keep the rice paper rolls covered with a clean, damp towel while you prepare each spring roll to prevent the rice paper drying out.
Bake for 15 minutes until golden and crispy. Serve with the reserved spring onions and some soy sauce or greek yogurt dressing on the side if you like and enjoy !