These Potato Fritters are really easy to make and are made with raw grated potatoes that will slowly soften with the ham stripes. these Ham Rösti are quick to make. It is worth doubling up and freezing half layered between greaseproof paper.  
Here is what you will need for 4 people:
Approximately 500 g ( about 1 1/4 pound) new small potatoes
4 thin slices of ham
2 eggs
500 g ( about 1 pound) cherry tomatoes
Salt and pepper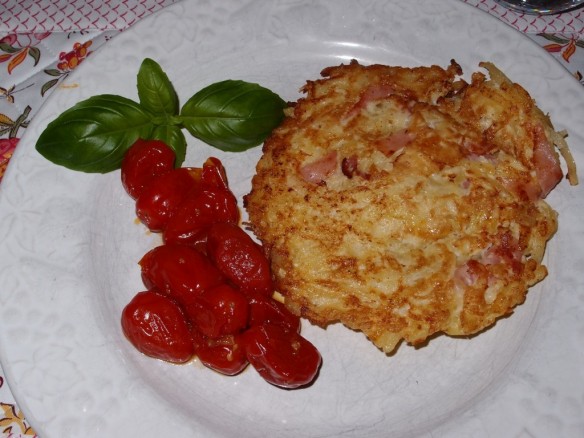 Preparation :
Prick the cherry tomatoes several times and fry in a hot pan with a small amount of butter. Stir regularly and let the water evaporate. Let cook until you got a compote.
Break the eggs and beat them. Add salt and pepper.
Cut the ham into thin strips.
Grate the potatoes and add the strips of ham and beaten eggs.
Heat your pan with a knob of butter. Meanwhile, mix well your grated potatoes with strips of ham and beaten eggs and then make four piles of the mixture into your hot skillet and cook over medium-high heat for 2-3 minutes. Flip the pancakes and continue to cook for another 3-4 minutes covering your pan.
Before serving, place your pancakes on plates with a little stewed cherry tomatoes and garnish with a sprig of basil if you have.