For a guaranteed success of this Fresh Salad with Prawns, I use a French Olive Oil. Its subtle flavor, light texture makes wonder on vegetables, fresh fruits and of course also on Prawns.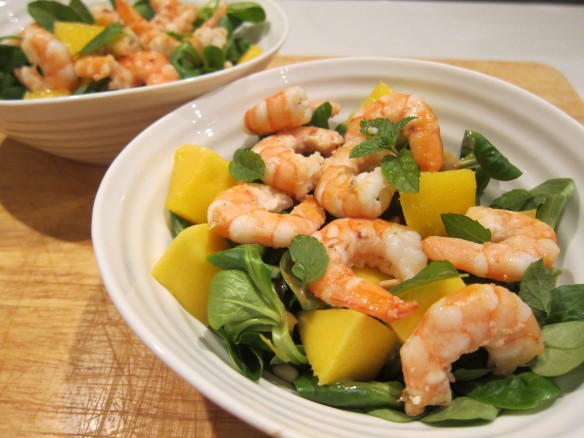 Fist, here is the list of the different ingredients you need to make the recipe for Fresh Salad with Prawns that serves 4 People
1 lb (400 g) nice and fresh Prawns
5 tsp. (25 ml) soya
1 mango peeled and cubed
1 lime
3 Tbsp. Olive oil
1/2 red onion, cut very thin
2 oz (50 g) pine nuts
250 g water cress
10 sprigs fresh mint
Now, here are the few steps you will need to follow for the preparation of the Fresh Salad with Prawns that will delight you.
Wash and drain the water cress (salad). Squeeze the lime. Rinse, dry and chop the mint. To prepare the sauce, mix soy, 2 tsp. Olive oil and 1/3 of the mango. Then add half of the mint and lime juice. Season with salt and pepper. Mix again and set aside. Keep in a cool place.
Peel the prawns and cook for about 2 minutes in a frying pan with the remaining olive oil spoon.
Spread the water cress in four plates or large bowls. Drizzle with sauce, sprinkle with onion, pine nuts and mango dices. Arrange the prawns, sprinkle with fresh mint and serve immediately.