Pesto is the quintessential Italian sauce. It accompanies all pastas, grilled meats, and arises from the funds of pies to give them mellow and fragrance. This delicate Basil Pesto sauce and delicious taste often has the scent of summer vacation 🙂
Ingredients for 1 small Jar:
1 large bunch of basil
½ bunch parsley
1 small clove of garlic
2 tablespoons pine nuts
4 tablespoons Freshly grated Parmesan cheese
Olive oil and sea salt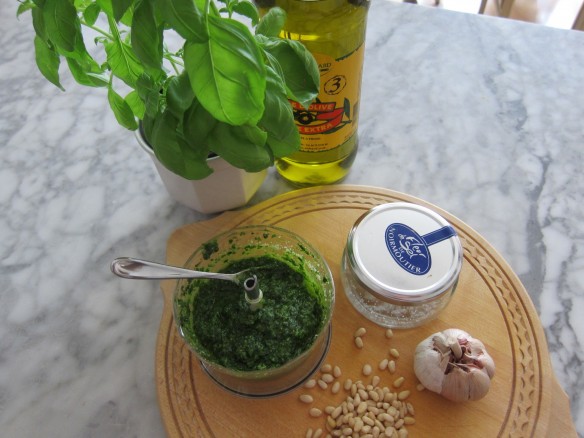 Wash and cut the basil and parsley leaves. Mix the herbs in a blender in pulse position, to prevent oxidation of herbs with garlic, parmesan, pine nuts and olive oil added slowly to it to give a fine, creamy texture.
Check the seasoning and pour into a jar, cover and refrigerate. it is that simple…
Consume your pesto within 3 days. It freezes very well !