This flavourful Winter Vegetable Stew is made in one pot. this combination is perfect for a hearty and great dinner time.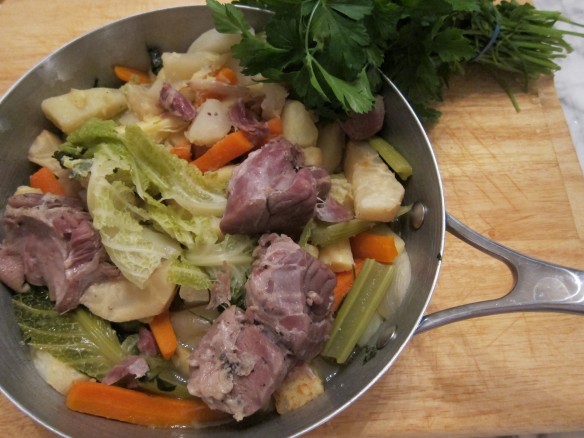 To make this baked Winter Vegetable Stew for 4 people you will need : 
1 large potato
3 carrots
2 small round turnips
3 parsnips
1/4 green cabbage
2 stalks celery (optional if allergic)
2 shallots and 1 garlic clove
1 bay leaf, thyme and parsley
25 cl (1 cup) vegetable broth
200 g (1/2 lb) heel ham
20 g (2 Tbsp) duck fat
Peel and wash the vegetables, cut into cubes or strips and blanch the cabbage.
In a cast iron pan fry in the duck fat and in order, shallots, garlic then all the vegetables except the cabbage, ham and at the end add cabbage. Season, then add the herbs and broth.
Bring to a boil, cover and bake at 150 ° C (320°F) for 35 minutes or cook over low heat, stirring from time to time. Serve immediately.

Print / Imprimer