Ingredients for 4 people :
2 eggplants
2 large zucchini
4 to 6 tomatoes, depending on size
2 garlic cloves, crushed
Salt and pepper
thyme
Olive oil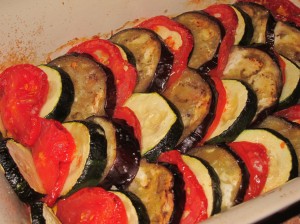 Wash vegetables, dry them and cut the eggplants, zucchinis and tomatoes into slices about 1 cm (1/2 inch) thick without peeling. Arrange the slices in a large baking dish, alternating the vegetables. On top, sprinkle with your crashed garlic. Sprinkle with salt, pepper and thyme. Add a big drizzle of olive oil on the vegetables rows.
Put in a medium oven 160 ° to 180 °C (360° to 395°F) for about 50 to 60 minutes, sprinkle again with a big dash of olive oil halfway. Pass the dish for the last 10 minutes under the grill if you wish. Finally, the Tian is a dish that is cooked during summer because vegetables are full with sunshine ! Serve it with a cooled Beef Carpaccio, its is just delicious…

Print / Imprimer