Ingredients for 3 Jars:
1 kg (2 pounds) Fennel hearts
200 g (1/2 pound) dried tomatoes
2 garlic cloves, peeled
3 sprigs of thyme
1 liter (4 cups) olive oil
1/4 liter (1 cup) of water
Salt and pepper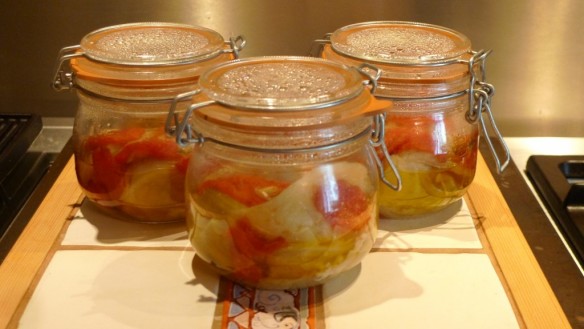 Heat 2 tablespoons olive oil in a casserole. Add the garlic, thyme, and cook 10 minutes over low heat with the hearts of fennel. add water, bring to a boil and cook 20 minutes over low heat then let cool.
Divide nicely fennel hearts and sundried tomatoes against the wall jars. Add the garlic, thyme and pour the remaining olive oil.
Wipe jar rim with a damp cloth, place the rubber seal and close the jars.
Sterilize 30 minutes. you can keep these jars 4 months in a cool, dry place.

Print / Imprimer