Ingredients for 4 people :
1 kg ( 2 lb) white asparagus
50 ounces of water
20 g (2 Tbsp) butter
4 Tbsp. flour
15 cl ( 1/3 cup) of cream (optional)
salt and freshly ground pepper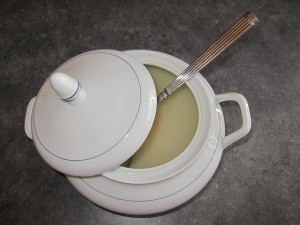 Carefully peel the asparagus with a peeler, cook them  in boiling salted water for about 20 minutes depending on size. Once cooked, drain and collect a quarter of the tail of each asparagus.
Then heat the butter in a saucepan, add flour and stir quickly and then gradually add the asparagus cooking water necessary to obtain a clear but smooth liquid.
Blend the asparagus tips at high speed with the cream, salt, pepper, until a velvety smooth and then add your liquid. Adjust seasoning and serve immediately in a beautiful tureen.

Print / Imprimer