Serve this delightful risotto with some nutty toasted rye Bred. Lobster make for an impressive rice dish. its a perfect, lovely and rich risotto and with the Lobster adding a subtle flavour. See how its done at laclassedecuisine.com !
Ingredients for 4 people:
250g Arborio rice
750 g vegetable broth
25 ml white wine
1 shallot, chopped
4 garlic cloves, chopped
4 tablespoons butter
1/2 teaspoon salt
200 g of cooked lobster meat
50 g parmesan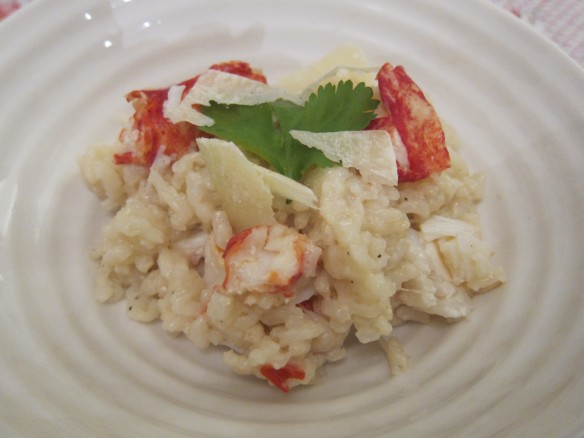 Melt the butter in a saucepan over medium heat and add the shallots.
Sauté the shallots until translucent, add garlic to sauté for a few minutes.
Pour the rice into the saucepan and brown in butter, shallots and garlic until translucent. Add white wine and a cup of vegetable broth and stir.
Continue to stir until the liquid is absorbed. Repeat steps 4 and 5 until the three cups broth are used and absorbed.
Meanwhile, warm your lobster meat on a steam bath. when the rice is tender, remove from heat and stir in the Parmesan. Add half of the lobster meat in the risotto and keep a little for garnish. Place the risotto on plates and put the rest of the lobster meat on top. Serve immediately and enjoy !

Print / Imprimer