Ingredients for 4 people:
8 big and round tomatoes
25 g (2 Tbsp) butter
1 small bunch of parsley
1 egg
400 g (2 pound) ground beef
1 onion
2 garlic cloves
100 g (1/4 cup) dry bread
1/2 cup milk
50 g (3 Tbsp) breadcrumbs
Salt and pepper
Olive oil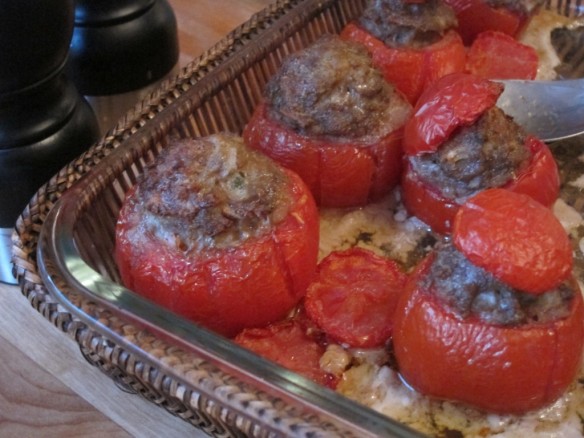 Cut a lid on the opposite side of each tomato. They will be stronger and will remain perfectly straight in your dish! Dig them gently with a teaspoon . Salt the inside and turn up side down on a plate to drain.
Pour 1/2 cup warm milk on your bread to swell. In a bowl, put the chopped meat, whole egg, chopped parsley, onion and crushed garlic, salt and pepper. Add the wet bread and mix well together.
Put the mixture into the hollowed tomatoes. You can use tomato juice if necessary to moisten the stuffing a little more if needed.
Butter a gratin dish not too large. Place the tomatoes in, tight enough to leave no space between them. Sprinkle with bread crumbs and butter. Bake in a medium oven (160 ° C) for about 30 minutes. Replace the lids on each tomato and bake an additional 10 to 15 minutes or until nicely browned.
Remove from oven, wait a few minutes before serving with rice or pasta if you have a good appetite.

Print / Imprimer