Ingredients for 6 people:
1 boneless lamb shoulder of 1.5kg (3 pounds)
150 g (2/3 cup) apricots
50g (3 Tbsp) pine nuts
50 g ( 3 Tbsp) soft butter
1 small bunch of parsley and mint
1 cube of chicken broth
2 tbsp olive oil
Salt and pepper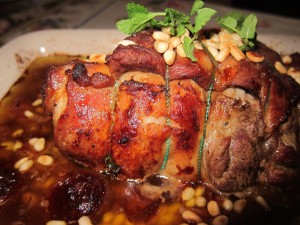 Preheat oven to 160 ° C (325°F). Start by preparing your stuffing. Mix the pine nuts having put aside a tablespoon for decoration. Mix half the apricots and add a few mint leaves and 3 sprigs parsley. Mix all these ingredients and finally add the butter.
Dissolve bouillon cube with 50 ounces of boiling water. Place the lamb shoulder on the worktop, salt and pepper then spread the filling, roll and tie like a roast.
Golden brown your shoulder on all sides for 5 minutes in olive oil. Place it in a dish with half of the broth and bake for 1hour and turning regularly.
Cut the apricots in half, place them around the meat with the remaining broth and cook for 1 more hour.
Before serving, sprinkle with mint and parsley and reserved pine nuts. Serve, accompanied by seasonal vegetables of your choice, such as zucchini, and I wish you a good appetite.

Print / Imprimer