What is a classic Beef stew in red wine from Bourgogne in France? Beef Bourguignon ! Here, It is enhanced with the tang of orange zest and enriched with sun dried tomato paste that "melt" into the sauce. Now, see how its done at laclassedecuisine.com and… Bon Appétit !
Serves 4 
4 lb beef (scoter, gite or heel) chopped
1/2 cup bacon
1 tbsp flour
2 Tbsp butter
2 Tbsp oil
2 garlic cloves  and one bouquet garni
1 Tbsp tomato paste
1 orange, zest and juice
1 cup water
Chopped parsley
For the marinade
1 bottle of red wine
1 Tbsp oil
2 carrots
1 onion
2 shallots
2 garlic cloves
Parsley, thyme and 1 bay leave
3 whole cloves
5 peppercorns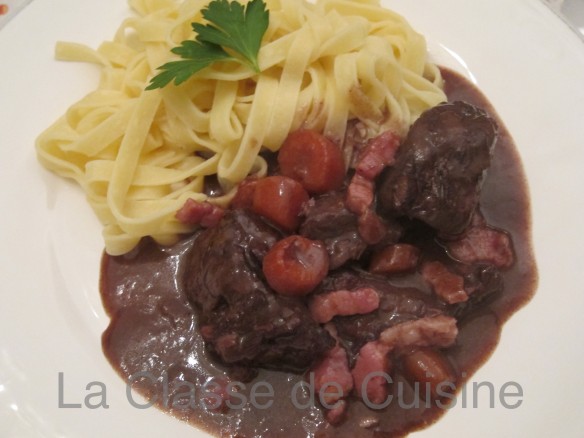 The day before, put the meat cut into large cubes in a bowl with all elements of the marinade.
The next day, drain and pat the meat dry with paper towels before attempting to scorch over high heat with a little oil. Then add the spices of the marinade (carrot, onion, shallots) and butter. cook 15 minutes uncovered, then sprinkle with the tablespoon of flour. Let the flour become lightly brown.
Cover the meat with the marinade and bring to a boil. Add salt and pepper, 1 cup water, tomato paste, orange zest and juice, garlic and bouquet garni. Cover and cook very gently for 2 hours.
30 minutes before end of cooking, put the potatoes or tagliatelle cooked with water. Fry the bacon in a pan and when golden brown, drain them and add them to your casserole.
Arrange the meat in a shallow plate, sprinkled with sauce or directly in the pan. Serve with potatoes or pasta sprinkled with chopped parsley and Bon Appétit.

Print / Imprimer