Ingredients for 4 people:
4 chicken thighs
25 cl (1 cup) white wine
1 tablespoon mustard
1 teaspoon tomato paste
1 tablespoon wine vinegar
15 cl (2/3 cup) whipping cream
Salt and pepper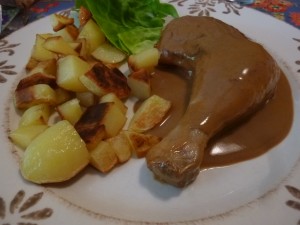 Fry the chicken thighs until golden browned, then reduce the heat and continue cooking, covered, for about 20 minutes.
Meanwhile, whisk together the white wine, mustard and tomato paste. Then pour the vinegar into the pan after removing the chicken thighs that you will keep warm.
Reduce the vinegar mixture and then add 1st mix. Filter. Put it in a pan and let reduce until the sauce coats the back of a spoon.
Add the cream, stir well to get a smooth mixture. Serve immediately with some rice, pasta or fried potatoes.

Print / Imprimer