Serves 6                            Preparation & Cooking Time 20 minutes + 4 hours
6 lamb shanks
3 sprigs thyme
3 sprigs rosemary
3 tablespoons olive oil
3 cloves garlic
1 liter (4 cups) vegetable stock (homemade or reconstructed)
1 tablespoon honey
3 tablespoons balsamic vinegar
Salt and pepper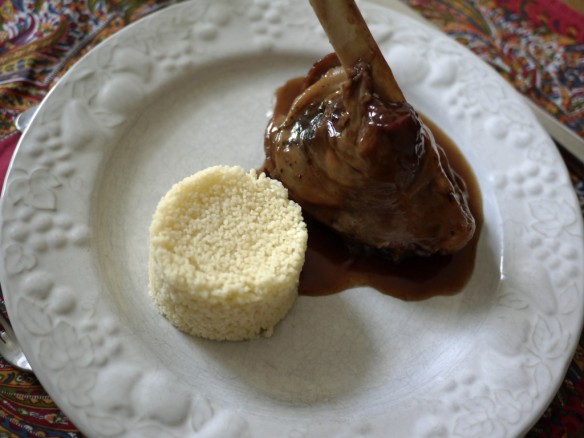 Salt and pepper the lamb shanks and let them brown on all sides in hot oil then add the thyme and rosemary and garlic cloves and stir. Pour in a liter of broth, bring to boil then cover and place in a preheated oven at 120 °C (300°F)  for 4 hours and moisten regularly the lamb shanks during cooking.
After this time, remove the lamb shanks from the casserole and place the pan on the heat to reduce the juice to 1/3. Take the cooked garlic, discard their envelope (if they have kept it) and crush the garlic flesh.Pass the juice of the pan and stir in with the crushed garlic.
Set aside. Put the lamb shanks back into the casserole and pour honey over the shanks and stir to coat it. Let them caramelise over low heat, deglaze with the 3 tablespoons balsamic vinegar and then moisten with the filtered sauce. Let reduce a little more, about ten minutes, until the sauce is slightly syrupy and serve them along with fresh peas and carrots if you want. A good carrot puree home made, or some semolina will also delight everyone.

Print / Imprimer