Ingredients for 6 people:
400 g (2 small cups) fresh salmon
200 g (1 small cup) smoked salmon
2 carrots – 1 onion – 1 garlic clove
2 egg yolks extra fresh
100 g (3 oz) butter
Half a lemon juice
Pepper
1 tablespoon olive oil
1 sprig of dill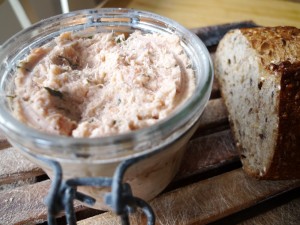 Prepare a short stock with 1.5 l water, carrots, peeled and sliced, peeled and sliced ​​onion, garlic, peeled and whole and a bouquet garni. Let boil 30 minutes. Immerse the fresh salmon in the broth, bring to a boil and simmer for 20 minutes. Drain.
When the fish is cool, remove the skin, bones and thin out the flesh with a fork. Cut the smoked salmon into cubes. Mix smoked salmon and fresh salmon.
Add egg yolks, soft butter, olive oil, finely chopped dill and lemon juice at last. Add pepper, mix everything well and put the Rillettes in pots.
Place in the refrigerator at least overnight before serving.

Print / Imprimer