Ingredients for 4 people:
12 large leaves of kale or green cabbage
 1 large apple Granny-smith type
 1 lemon juice
 40 g (3 Tbsp) butter
10 cl (1/3 cup) water
 75 g (5 Tbsp) flour
 400 g (1 pound) skinless salmon fillet
 2 eggs
 30 cl (1 1/4 cup) whipping cream
 1 Tbsp. chopped chives
 1 Tbsp dried fish broth
 1 teaspoon wasabi or horseradish
 Salt and Freshly ground Pepper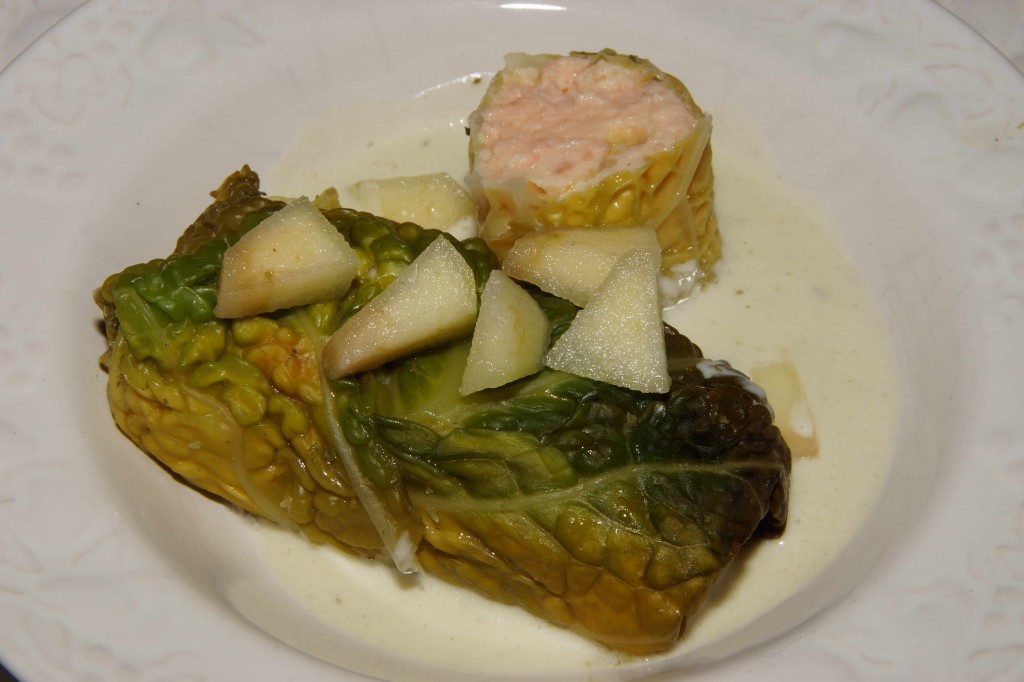 Remove the central rib of cabbage leaves. Cook them in boiling water for 3 minutes. Drain and immediately plunge them into ice water. Spread them on a cloth. Peel and core the apple. Cut it into cubes. Pour into a bowl of lemon water.
Heat the butter and water in a saucepan. Upon boiling, remove from heat and add the flour. Mix quickly and put on high heat until the dough comes off the pan. Let cool this paste.
Cut the salmon into large cubes and mix by pulse with the eggs. Add half the cream and mix again. Stir in the paste and mix again. Pour into a bowl. Add salt and pepper. Beat together and add the diced apple. Reserve a tablespoon of diced apple for decoration.
Trim the cabbage leaves. Put on each one a large ball of stuffing, then close them by tying them into roulades.
Put them in a buttered dish and pour the broth diluted in 50 ounces of boiling water or until the liquid is mid height of the roulades.
Cover with baking paper and place in a preheated oven at 150 °C (370°F)  for 30 to 40 minutes.
After this time, drain the roulades and keep them warm. Add the remaining cream in 1/3 cup cooking juice with the teaspoon of wasabi or horseradish. Boil to a smooth sauce. Serve in a serving dish or place the roulades on the plates, remove the strings, coat with sauce and garnish with remaining diced apple.

Print / Imprimer